Tutorials / help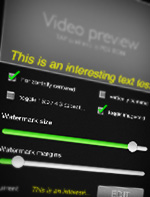 If you've bought Watermarker and have some questions regarding as to how to use it, please take a look at our tutorial video
here
. I've decided for this app to leave the tutorials out of the app, to save on download size and create the meanest & leanest experience possible.
Watch the Watermarker app Demo video
here
Watch other examples of Watermarker output
here
and
here
Credits
Watermarker is an Appjuice product, it's the fifth production on our own label.
Graphics created by Jeroen van Goor
Programming: Jeroen van Goor
Beta testing: Johan ten Broeke
Appjuice is an initiative of
fullscreen.nl